Canine Importation, Selective Acquisition, Breeding and Stud Services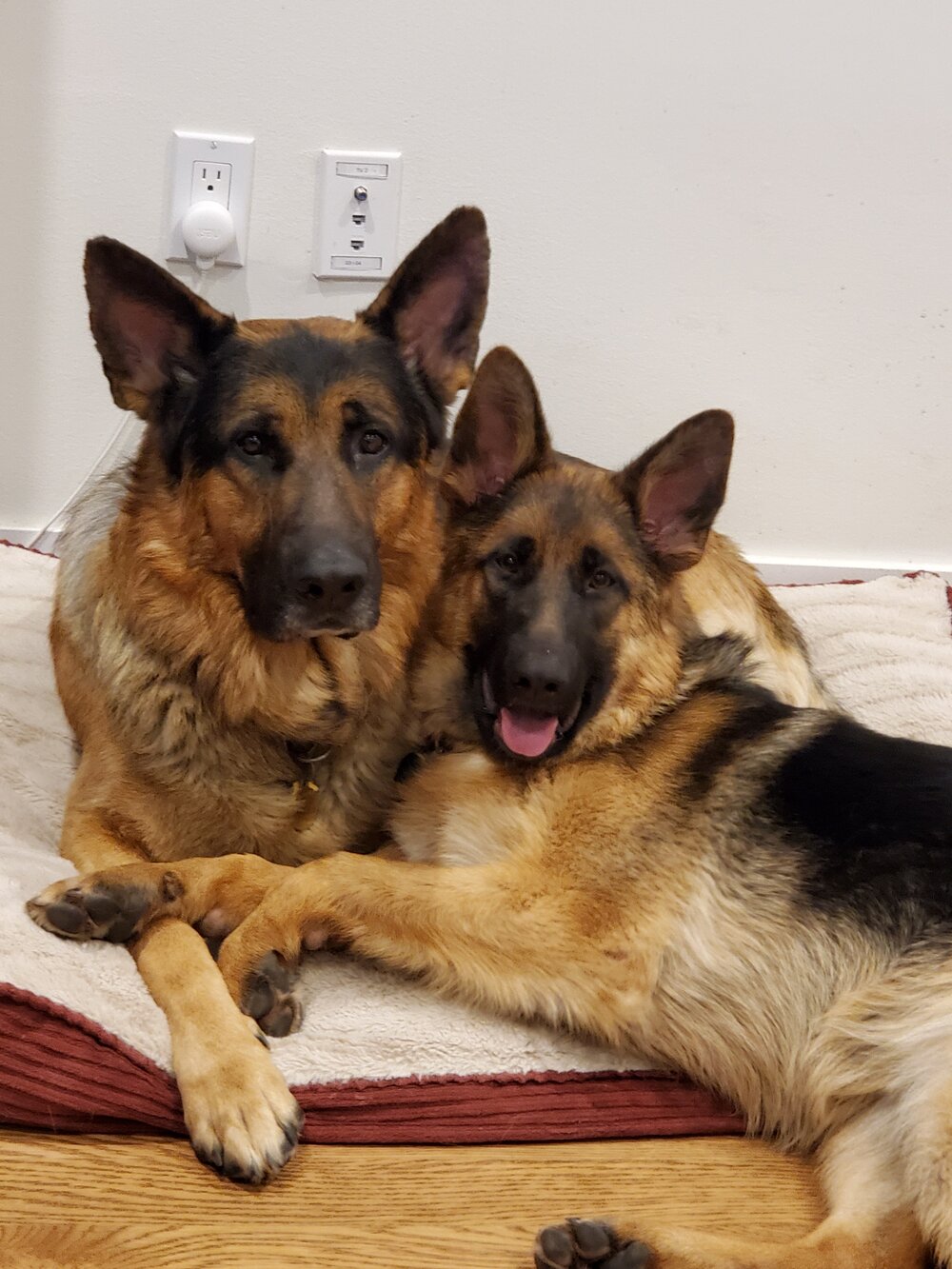 Young Male For Sale – See Below!
Alpine Kennels can help you or your organization obtain the highest quality dog(s) to help meet your individual or organizational needs, we work exclusively with the best breeders and trainers in Germany and another top importer in the United States. Please see the list below for currently available dogs, certifications and prices. Alpine Kennels offers puppies for sale at time of breeding domestically in the United States. The importance of our World Class German Breeding is the resultant superior health (including hips and elbows) temperament and train-ability of our German Shepherd Puppies For Sale. Alpine Kennels German Shepherds make great reliable personal protection dogs, Schutzhund/IPO competition dogs and wonderful family security dogs.
Currently we have two stud dogs available for breeding services in the United States. Again, please see details below.
We strictly adhere to all breeding guidelines and health protocols as per German and European breeding standards, including obtaining all pertinent certifications and health inspections, including FCI. We will not breed to, with or for dogs, that are not certified as per these criteria despite the lack of US AKC regulations. All our breeding dogs are KKL1a titled/certified (with "a" stamp or OFA).*See bottom of page.
Contact us for additional upcoming breeding schedules or plans.
We offer for sale fully trained imported Germans Shepherd Dogs that are between 2 and 6 years of age, that have all prerequisite training in Schutzen (protection) work (IGP/IPO) and/or detection work (SAR, explosives, and medical per request).
(Alpine Kennels will always adhere to the strictest training standards and certifications – such as IPO, IGP, SCH/VPG, etc.).
Please note that all dogs acquired from us qualify for boarding if the owners need to travel or spend time at a second residence. Fees do apply. During such time the dog will receive skill maintenance training.
We can further assist with transporting customers animals throughout the United States via ground or using our air pet transport partner, if the owners do not wish to transport the animal themselves. Alpine Kennels air partner operates a King Air for transport of animals and associated cargo. Fees apply and are individually discussed. In short, we can organize any necessary movement of your animal as per request.
We can arrange for export if the buyer is overseas. We have English, Spanish, German, Swedish, Japanese, Taiwanese Mandarin, and Korean speaking staff available. We can further arrange for dog-new owner training in the US, Germany or Japan for discerning customers.
We do not export to China, Hong Kong, Macao, India, Russia, or Belarus. 
Exports to Singapore and Taiwan are invoiced at a US$6,900 flat export fee. Plus actual cost of transport as/if applicable.
Exports to Japan are billed at $2,875 plus the actual cost of transport, and adding $10,350 for boarding until entry into Japan is approved. (This additional cost is based on the complexity of Japanese import regulations and mandatory waiting periods (180 mandatory) which will average about 200 days).**
Exports to Europe are billed at a $3,450 flat fee***, plus actual cost of transport.
Please see notes below for more details.
We accept wire transfers, bank checks and all major credit cards (a 3% fee will be added to credit card payments over US$1,000). 

Imported Schutzhund For Sale or Stud
Quana vom Kuckucksland (Freya)

German Import. Very Curious. Female. Born March 6, 2021
Freya is just about 11 months old and a most inquisitive and yet attentive female. Her pedigree (see below) is superb, and she is a prime example of her kennels offspring. Her parents are Zet vom Napte-Emmer-Eck, and Greta vom Kuckucksland. The famous Willy vom Kuckucksland is a grandfather. She is currently on track to complete her IGP1. Freya would be a great breeding female for the serious trainer and/or breeder, or she will make a great protection dog. She is also showing a great deal of curiosity and talent at tracking. She is currently at our Berlin Kennel, but is ready/eligible for export to North America immediately. Her import permission for Japan will be valid 14 July. Strong and relatively large female. Dark nose and upper head and ears, and back. Fairly light as opposed to red otherwise.
Price: Sold – She Will Still Be One of Our Breeding Females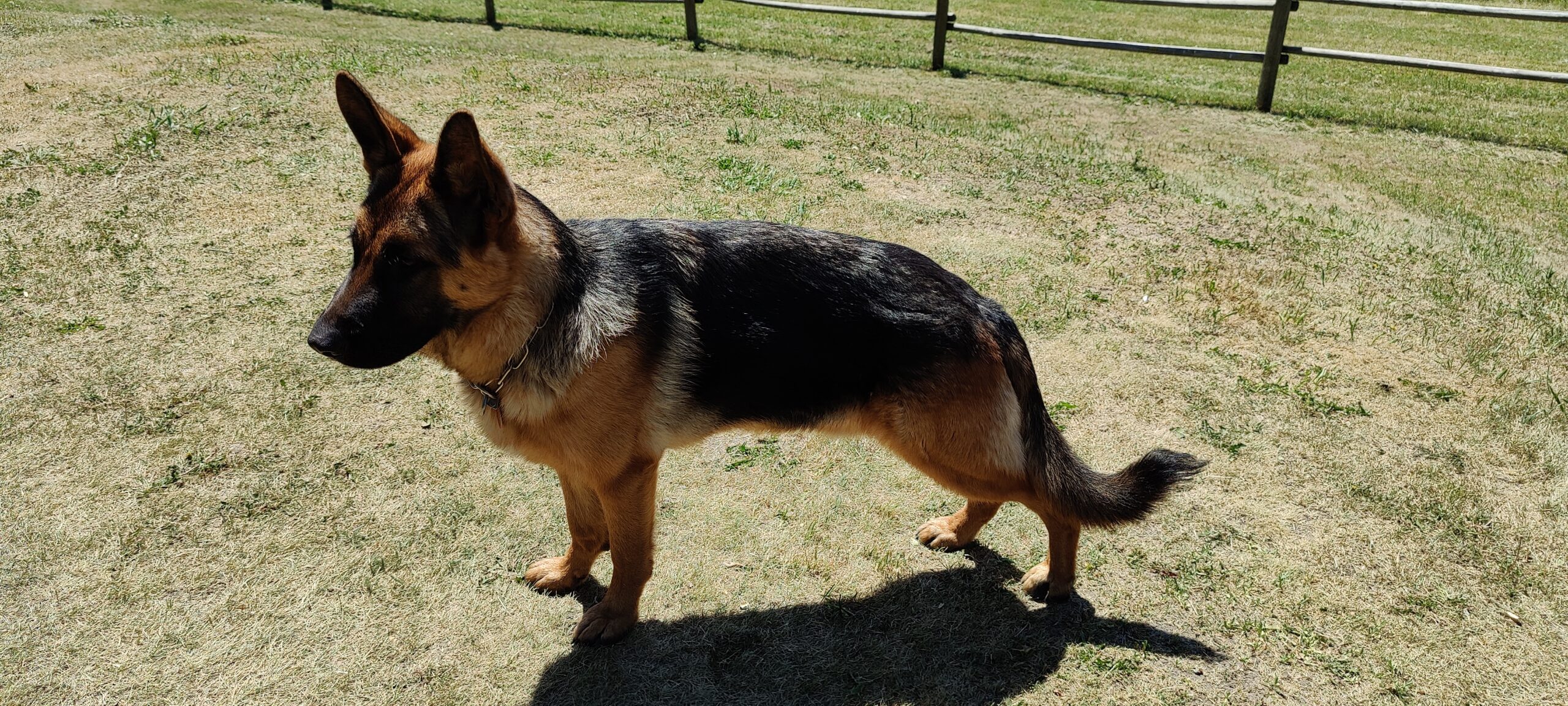 Quondor von der Piste Trophe (Thor/Tor)

Our newest addition. Born on 24 November 2021. Thor is currently at our Victor Idaho Kennel, undergoing training. A great example of a German Import from great lines, parents are Lasso vom Grafenbrunn and Esmee von der Piste Trophe. All exams passed. All German paperwork of course (Rasse-Echtheitszertifikat). Copy provided upon request.
Thor's training is progressing great and he is making good progress. Now just about 1year and 5 months, he weighs in at 85lb. and has a deep bark and inquisitive nature/behavior. Very protective but ok with other dogs. Loves to swim. Ready for a loving home with stimulation and purposeful work.
Thor is a stunning male puppy.
Deep red and black color.
Correct structure throughout.
Price: $6,000.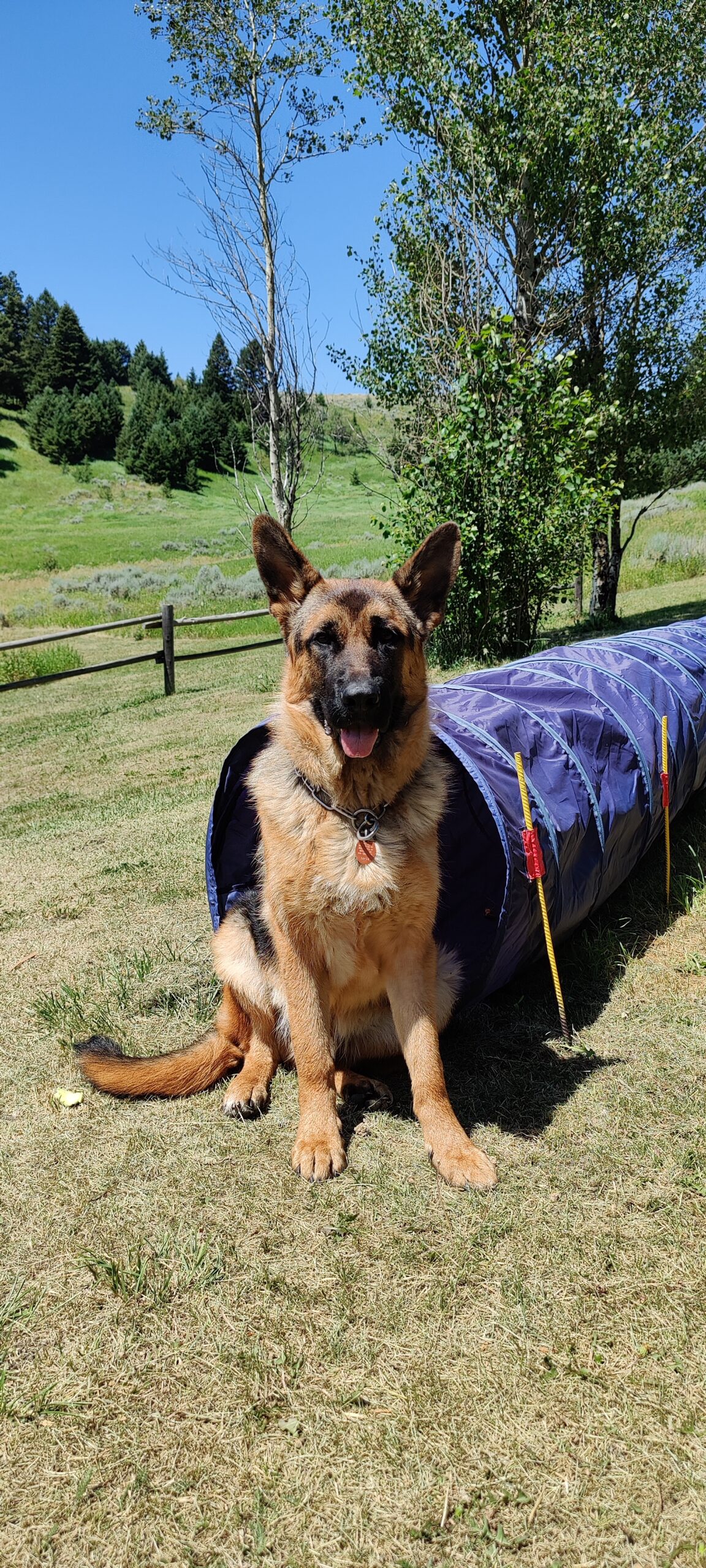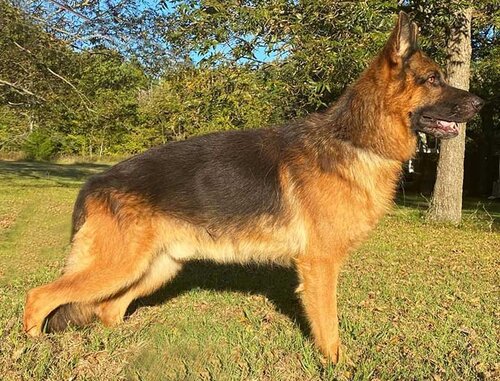 Turan von der Piste Trophe IGP3
German Import. Strong with Great Temperament. Owner & Family Focused. IGP3, V4, KKL1a. ISP (BH). Born September 11, 2015
Turan was on lease to the Tokyo, Chiba and Gunma Prefectural Police Forces, working as a SAR Canine K9. Arriving in Japan in time for the Tokyo Olympics and also assisting with detection work at Olympic Venues. He is now back in the USA.
Great temperament, family friendly, observant and protective. Great proportions and strong. His father was two time world champion, World Sieger Grand Champion VA1, Willy vom Kuckusland. Grandparents include Opus v. Radhaus and Remo vom Fischtenschlag.
Turan is one of our breeding males. Stud fee is $3,000.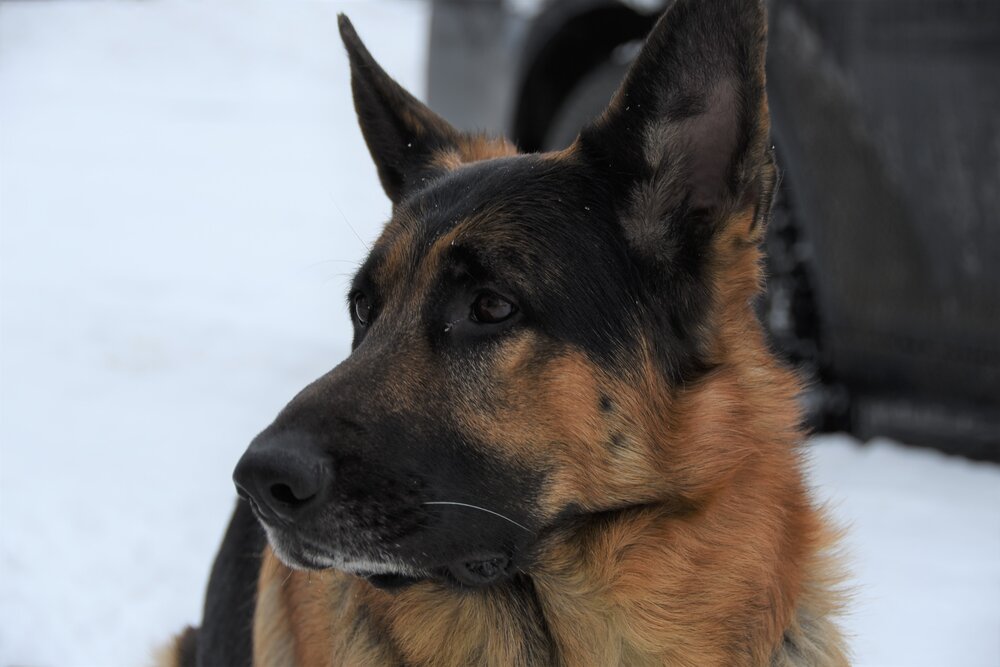 Tyr von Bildt IGP3
Tyr is a very large powerful male, with a great temperament. Super social and loving of children. Yet thoughtful and protective, very owner focused while still aware of his surroundings. (One of the best dogs I have ever owned…)
Tyr is one of our breeding males. Stud fee is $2,250
Alpine Kennels will occasionally breed suitable dogs. Currently we have two eligible or soon to be eligible females, as well as two suitable males. The respective pedigrees can be found below:
Females: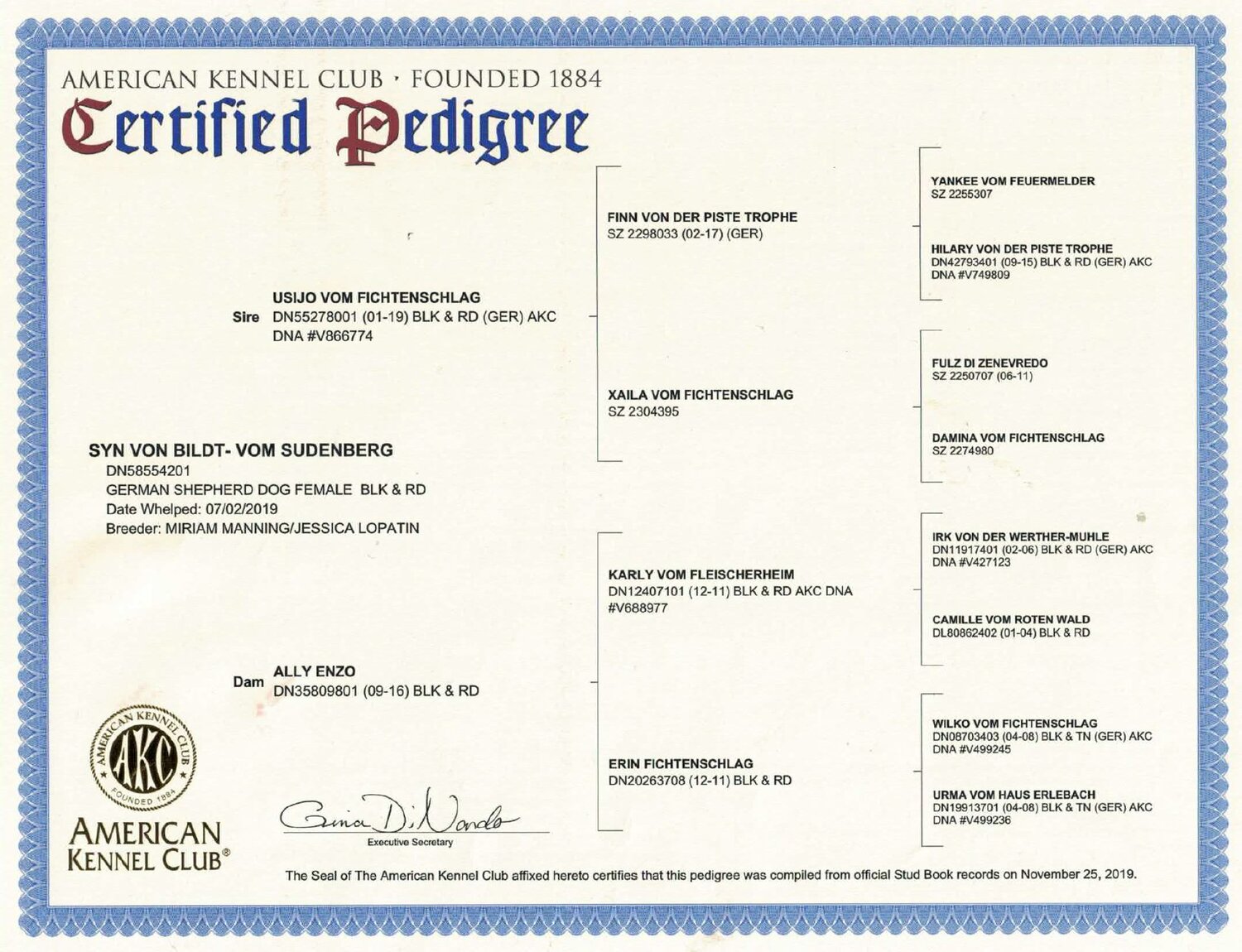 Alpine Kennels is Offering Stud Services From Two of its German Shepherd's:
V Turanvon der Piste Trophe – IPG3, V4, KKL1a, BH. Please see attached data sheets. Stud Fee: $2,500 (Semen Evaluation in January 2022)
Tyr von Bildt – IPO3, BH, DH. Please see attached data sheets. Stud Fee: $1,750 (Seamen Evaluation in October 2022)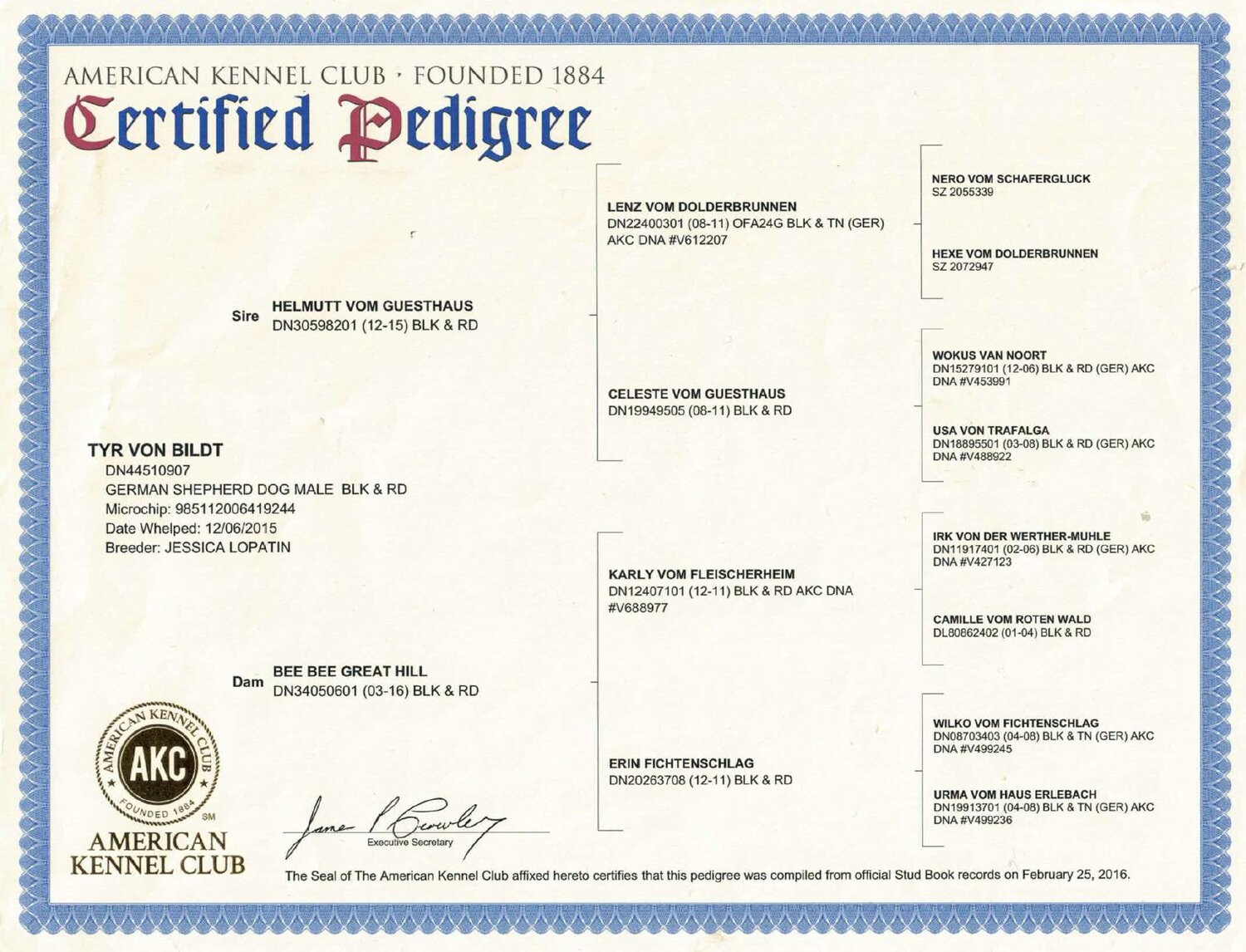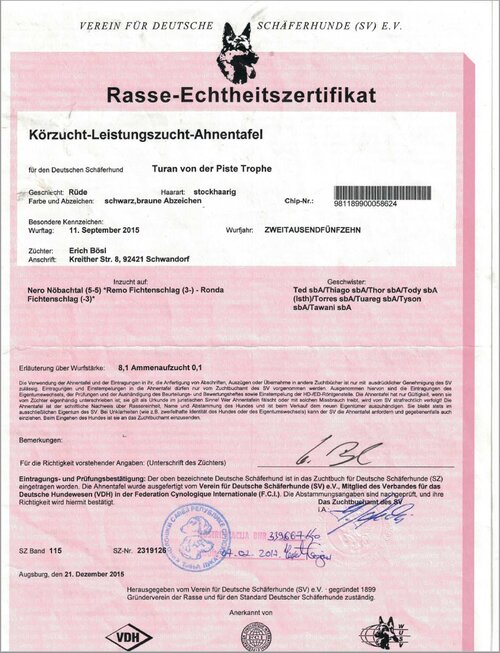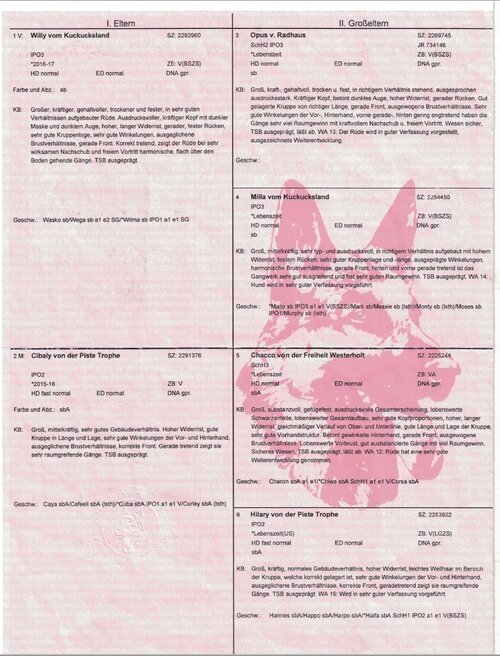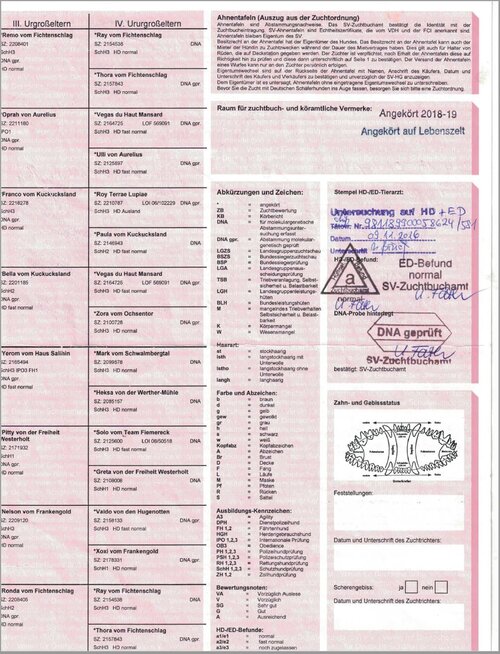 Your Title Goes Here
Your content goes here. Edit or remove this text inline or in the module Content settings. You can also style every aspect of this content in the module Design settings and even apply custom CSS to this text in the module Advanced settings.
*German Titles and Ratings
KKL1 (KoerKlasse 1) or Breed Survey
For this rating the dog must compete for titles in Germany or other countries under the rules of the SV (Verein fur Deutsche Schaferhunde, the club for German Shepherd Dogs in Germany). To meet this world standard each dog must pass a companion dog temperament test (BH), a minimum of a SchH1/IPO1 working degree, certified hips ("a" stamp or OFA) a 12 mile endurance test followed by an examination for physical soundness. The dog must also compete at a show to achieve a conformation rating of at least a SG or better. These requirements make the dog eligible to enter a Koerung/ Breed Survey (qualify for breeding). At the Breed Survey the dog is carefully evaluated for correct structure, temperament and courage. These requirements are only guidelines for our breed, sometimes recommendations are given to who the dog should be bred with to produce excellent offspring, also sometimes certain bloodlines are not bred together as the two bloodlines do not work well together.
KKL2 (Koerklasse 2) or Breed Survey
Suitable for breeding. Dog may have minor faults in structure or work, which can sometimes be compensated for by other bloodlines. Maybe re surveyed at a later date.
"A STAMP"
Dogs hips have been x-rayed and certified acceptable. (required for breed survey)
"ZW"
Breed Value Assessment Number The best tool for breeders in the fight against canine hip dysplasia (CHD), to come along in years, is the SV's HD Zuchtwert, or Breed value assessment number (HD ZW). The HD ZW number is an estimation of the probability that a dog will produce progeny with CHD.
The HD ZW value factors in many variables in the calculation, but is based mostly on the hip status of a dog's progeny. This is the critical factor in the usefulness of the HD ZW. The dog's own hip status is only one of several important variables in the equation, not the sole determinant. This is because it is possible for a dog with excellent hip status to produce a majority of progeny with CHD. And conversely, a dog with Fair hip status can produce a majority of progeny with excellent hip status. Without factoring in this critical look at the dog's Genotype (what his genes pass on to progeny) in addition to his Phenotype, (what his actual hip status is) real progress can not be made in reducing the incidence of CHD.
So how does it work? Each dog registered with the SV is assigned an HD ZW number at birth, based on its Parents HD ZW numbers. After a dog is x-rayed, its own hip status is factored into his HD ZW. Upon producing progeny of his own, the results of the progeny's x-rays are then factored into the parents HD ZW numbers. The HD ZW number is not a static value. It fluctuates depending on what the dog produces! This is what is important: A dog's Genotype; What the dog produces. Not his Phenotype; what his actual hip status is.
An HD ZW value of 100 has been set as the breed average. HD ZW values LESS than 100 mean the dog produces fewer progeny with CHD than the breed average. A number greater than 100 means a dog produces CHD more often than the breed average. So HD ZW values less than 100 are desirable. HOWEVER, the focus must still be on the Total Dog. Breeding decisions need to include much more than only a dog's HD ZW! Working ability and Temperament are most important!
To allow for this, the SV requires that the calculated HD ZW for progeny of a desired mating be 100 or less. So a bitch with an HD ZW of 80 can be bred to a male with an HD ZW number as high as 120! The pups of a breeding like this would be assigned HD ZW values of 100 at birth. So HD ZW values Less than 100 are not just desirable, they offer greater options in breeding partners. Additionally, stud dog owners can prove their dog's prepotency by accepting breedings to bitches with high HD ZW values.
For breeders in the US, you must register your dog with the SV or USA/SV, and have the dog's x-ray evaluated by the SV for 'a' stamp. This also settles the PennHIP vs. OFA vs. 'a' stamp question. The diagnostic method to determine a dog's hip status is not relevant. The most relevant data comes from a dog's actual production, "Do his progeny have CHD or not."
There are several sources to obtain data on an individual dog's HD ZW value. The SV website has a search engine which allows entering a dog's SV registration number, or parts of the dogs name, to obtain the HD ZW. This site maps that feature in the "HD-ZW Search". You can also buy the data on CD from the SV as a one time purchase, or as a subscription updated quarterly.
This tool is a must have for every serious breeder! And now, every puppy buyer can have additional, useful information, regarding the potential for a puppy to develop CHD. Change in the reference basis (numerical calculation) of the HD Breed Value Assessment (HD-Zuchtwertschätzung)
WORLD SIEGER
The shows in Europe and now in North America crown the top dog in each class with the title Sieger. The most prestigious class is the Adult working class where dogs are rated VA (select) and V (excellent). VA is given to top dogs only at the national level and cannot be given at the regional level. Only dogs in the working class can achieve a VA or V rating. The highest rating in the other classes is SG (very good)
Siegerin
Same as for Sieger but applies to the females in each class.
"VA"
Excellent Select title in that is only awarded at the Annual Sieger Show
"V"
Excellent title at a show
"SG"
Very Good ( minimum required for breed survey)
"G"
Good
"A"
Sufficient
"VP"
Very promising, given to puppies attending a conformation show
"U"
Unsatisfactory, has faults not allowed under the breed standard
"BH"
Temperament test and obedience examination to qualify for Schutzhund titles. This MUST be completed before competing for a SchH1 degree
Schtuzhund (SchH), (IPO) or (IGP) 1, 2 or 3
These tests combine the disciplines of tracking, obedience and protection. Each level must be passed on the trial day and to a score of 70 or better in each discipline to achieve the degree. In each degree the disciplines are harder for the dog and handler to compete. A SchH1 is the minimum required working title for breeding in Germany. In Canada or the USA there is no such requirement for breeding.
HGH
Herding Dog title
PH
Police Dog
FH (1)
Advanced tracking degree
AD
The dog has passed an endurance degree test by gaiting approximately 12 miles with a 10 minute rest halfway. Passed a simple obedience test at the end of the run. In addition the dog is given a simple physical examination after the AD test. (requirement for the Breed Survey)
** Asian Exports
10lease note that this only applies if a canine is acquired from our US facility. If you buy from our Japan based kennel the terms are different and could incur a lower cost for regional transport, etc to be determined at time of purchase.
Please do note that we decline to sell or export to China (PRC), Hong Kong, Macau, Russia and Belarus.
It is further at the sellers sole discretion to arrange and/or approve any transport route and method – and to approve that we are possession of all relevant government approvals.
Exports to Mongolia will incur a flat fee of $9,500, plus actual transport costs. It is further at the sellers sole discretion to arrange and/or approve any transport route and method.
Note that exports to Japan are perfectly possible but are complex and will take time. We are happy to oblige but encourage you to talk to us about options from our Japanese Kennel. Exports from the US to Japan are billed at $2,875 plus actual cost of transport and adding $10,350 for boarding until export/travel. This additional cost is based on the complexity of Japanese import regulations and mandatory waiting times (180 day minimum) which will average about 200 days.
Exports to Singapore, and Taiwan are invoiced at a $6,000 flat fee. Plus actual cost of transport as/if applicable.
Exports to New Zealand, Australia and Indonesia are by individual arrangement only due to complicated quarantine procedures. We will work with client(s) on an individual basis to make arrangements.
(Note that local regulations do change and thus our fees are subject to change without notice.)
All sales are final. Deposits are non-refundable.
*** Europe Exports
Western Europe (EU + The UK) is billed at $3,450 plus actual cost of transport. Sales to Ukraine are billed at $5,500 plus actual cost of transport.  Sales to the Ukrainian Armed Forces are however discounted and will only be invoiced at the actual cost of transport.
Please note that we do not export to Russia, Belarus, Serbia, Macedonia, Montenegro, Albania or Kosovo. (We do not consider these nations to adhere to proper animal care, breeding or medical standards.)
All other nations as per individual agreement.
All sales are final. Deposits are non-refundable.